Free ESL/EFL Online & Classroom Games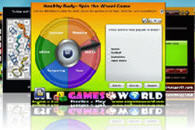 ESL Games World is the ultimate English learning fun lab with lots of interactive exercises for teachers and students of English. This site is brought to you free of charge by the same team that brought you the ESL-galaxy.com, englishmedialab.com and esltower.com. We are committed to making teachers' & students' lives a lot easier by providing useful free esl resources for teaching and learning English as a Foreign or Second Language.
We have no doubt that you will find this website a handy tool for your teaching and learning of English. Some of the games include: Wheel of Fortune, Snakes and Ladders, Hangman, Memory Games, Spelling Games, Slot Machine, Word Classification Exercises and a host of others. Watch ESL Games tutorials on how to play»
ESL Powerpoint (PPT) Games

If you are the type of person who prefers to have games on powerpoint or as printable handouts, we have been thinking of you. We offer board games, powerpoint games and more for the classroom and one to one teaching. They have made my lessons fun and I have no doubt yours will be fun too. Added to the good news are the templates we offer that you can use to create customized games for your classroom and teaching.
It is total fun and highly engaging fun lessons with these resources. Games have the power or eliminating negative emotions and keeping learning total fun.With the absence of the affective filter, learning is much more effective. Visit this page.
Printable ESL Board and Card Games


We offer a variety of printable ESL board games and card games to help give your students lots of communicative practice. These games are in printable ESL PDF and MS Word formats. All of these games have been used in ESL classrooms and trust me when I say they work great. We have games like the Crocodile Board Games, Pirate Game, Round Table Card Game, Q and A Card Game, Power Cards and more games of our creation. Visit this page.