Free ESL/EFL Online & Classroom Games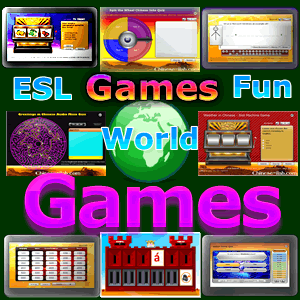 ESL Games World is the ultimate English learning fun lab with lots of interactive exercises for teachers and students of English. This site is brought to you free of charge by the same team that brought you the ESL-galaxy.com, englishmedialab.com and esltower.com. We are committed to making teachers' & students' lives a lot easier by providing useful free esl resources for teaching and learning English as a Foreign or Second Language.
We have no doubt that you will find this website a handy tool for your teaching and learning of English. Some of the games include: Wheel of Fortune, Snakes and Ladders, Hangman, Memory Games, Spelling Games, Slot Machine, Word Classification Exercises and a host of others.
Read and watch Games tutorials»